As far as visual content goes, humans are pretty visual creatures.
Nearly half of the human brain is dedicated to processing what we see, and we process images in as little as 13 milliseconds – (to put it in context, a blink of the eye takes 300 milliseconds) – it is really no wonder why marketers look to visual content and graphics to improve their engagement.
That is not to say that long-form content has had its day – copywriting will always have a place in the heart of marketing professionals. Visual content just makes it more engaging, that's all.
Simply slapping on an image or video in your posts will not do the trick, however. Your visual content should be relevant to your message, or it will be just like a commercial break.  A cute dog video may be entertaining, but if it doesn't further what you are saying, it doesn't belong there!
Here are 7 creative ways to boost your engagement with visual content…
Animated GIFs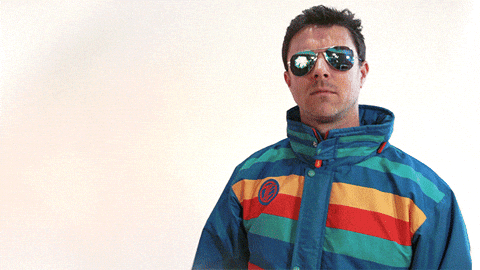 Source: giphy
Animated GIFs (whether you pronounce it with the hard or soft "G") are dominating social media today.
A cross between photo and video, the simulated movement of an animated GIF lends dynamism to your content without stifling your blog or post down due to its small file size. The great thing about GIFs is that they work in many different types of blog posts – you don't have to be comedic, they're simply an engaging source of material! These image types are also very effective in email marketing, as not all email clients accommodate videos.
Most importantly, animated GIFs are mobile-friendly. If your graphic content includes an animated GIF, you have a higher chance of having it shared and becoming viral, than with a static image or video.
Creating an animated GIF is easy with the right tools, and YouTube videos are a rich source of videos for this type of treatment. You can try a couple of tools to make an animated GIF out of your favorite YouTube videos, just to try it on for size.
GIFYT is specifically for YouTube, so you might want to start with that one. You just have to put in the URL of a YouTube video, add a caption if you like, and hit "Create."
Another visual content tool is MakeAGif – a simple, free tool for making animated GIFs from a YouTube video. You can also convert photos, Facebook and other videos, and webcam to an animated GIF.
You have to sign up to make a GIF, but that's a small price to pay for greatness! Here's one attempt at it.  You can also search for user-submitted GIFs – your stock of fresh, quirky, visual content is endless!
If you're looking for a few more GIF-makers, these are some other great options, take your pick:
On-Hover Sharing
How can you encourage visitors to share your animated GIF or other visual content on social media? Make it easy, of course. Enable mouse-over sharing by installing an on-hover sharing button for all your visual content. This is an immediate call to action that requires very little effort on the part of the user.
To clarify – this isn't just for creative posts. Creating viral, easily sharable content works for a variety of genres: educational, inspirational – making your content accessible is the icing on the cake!
You can use several plugins to install on-hover sharing buttons. If you use WordPress, you can use the WWM Social Share On Image Hover plugin. It supports up to six social media icons that appear when you hover on the image…
Other plugins that do the same thing include:
Spread positive feelings
When your visual content touches a chord in the users, you leave a lasting impression, and they are more likely to remember and share it. Research shows that positive feelings such as joy, anticipation, trust, and interest are one of three of the most engaging emotions you can elicit from your audience. The other two are emotional complexity (wide range of emotions) and surprise.
You can get more people to respond to your content when you play on their emotions – so, next time you're blogging images, it is better to choose positive ones, as you want users to connect the positivity back to your brand.
Get them to contribute
A good way to create brand loyalty is to get your audience to have a stake in the types of content you put out there.
Ask them to contribute images, animated GIFs, and videos, and make sure you have something positive to say. People love to be the star of the show; it makes them feel singled out. People are also more likely to trust a brand with user-generated content.
Contests are always a good way to introduce this to your brand. You can ask your audience to submit the "funniest," "strangest," or "coolest" images or videos. You can also post an image and invite your audience to give it a funny caption. The winning entry gets a small prize, but showcases everyone's entries.
You can also ask them to submit selfies using your product if you are in retail. People like taking selfies anyway. Why not put it to good use? Selfies are particularly great for engagement because they are personal, so they spread easily. Friends and family are sure to like, comment, and share each entry.
Make them interactive
Interactive visual content is engaging because it gives the user something to do other than look and watch. This is especially true when you are describing a product or teaching them how to do something.  Research shows that 85% of marketers believe interactive content makes their product's brand more memorable and that it results in two times more conversion compared to passive content.
ThingLink is a tool for adding interactive annotations to an image or video, and it is very useful when you want to use just one photo. The tool lets you add text, or you can add links to another image, site, music file, or video to parts of an image with the free plan. You can also make a video or 360°/VR media interactive, but you need a paid plan for that.
You can also try Whatfix to make interactive guides and how-tos, and track user engagement at the same time. It is not a free service, but it does have a free trial.
If you want to make polls, quizzes or tests, personality tests, you can use Apester to make them and embed them on your page or site. The tool allows the user to get instant feedback when they vote or answer a quiz.
Repurpose content
Don't be in such a hurry to move on to the next thing!
You might be able to repurpose your content into different forms, depending on the response of your audience. For example, you can convert your text tutorial into a video or slide presentation using a tool like Powtoon, or make an infographic of last week's statistical update using Visme, Canva or Venngage.
Visual content engagement will vary from person to person, so you need to monitor your analytics on the various platforms you use. It will help you pinpoint which types of visual content on which you should concentrate.
Celebrate the unusual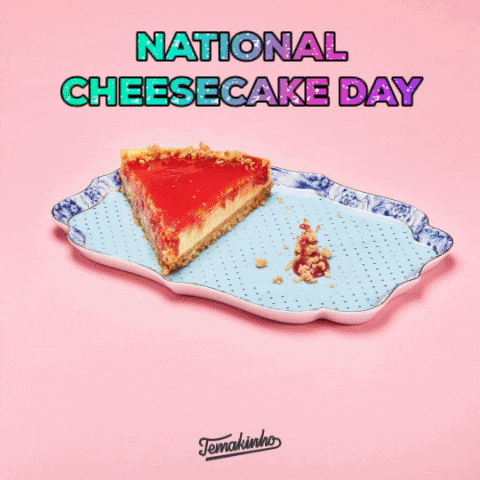 Source: giphy (p.s. National Cheesecake day is July 30 – mark your calendars!)
Christmas, Valentine's Day, and Thanksgiving are passé. Make a statement and celebrate the weird and unusual special days, such as National Spaghetti Day (January 4) or International Joke Day (July 1). There is no limit to the visual content you can drum up every day of the year with weird and wacky themes if you so choose.
Conclusion
These are just some of the ways you can tweak visual content to make them more engaging. You can stick to standard photos and videos if you want, but it is good to shake the tree every now and again…
Do you have any suggestions to add to this list? Give us a shout-out in the comments, we'd appreciate it!
---
Looking for some design inspiration? Check out our archive of incredible graphic designers, who can help your business stand out, today.