People choose to become freelancers for a particular reason: this job gives an opportunity to be more independent, plan your time more freely and land a job you really like. However, you've got to think about branding, and in particular, the business profile you'll be using on all types of social media.
By 2027 it's expected that freelancers will comprise 50% of the workforce in the U.S, and there's a reason for that. Freelancers are better prepared to work in any condition and they are seen as independent contractors, making their own decisions and planning their work in their own, unique way.
There's also an increasingly popular reason for becoming a freelancer, and that is that the more clients you land, the better your business profile stands out. Rather than having one employer for a long time, it's better to have many clients leaving good reviews and coming back having more projects for you.
Before you become a successful freelancer, you'll have to overcome many difficulties to get loyal customers. Sometimes it takes years to get to the point of success in freelancing, but you can speed up this time with the help of your freelance business profile.
Your business profile is essentially the image that your future clients judge you by, deciding whether you're a suitable person for the job. To help you create an outstanding freelance profile, let's take a look at the following essential tips.
Your profile picture says a lot about you
The first thing your future clients see is your picture, and the more agreeable and presentable you look on it, the better are the chances that a particular client chooses you.
The community at Upwork, the most popular website for freelancers, has landed the rules for a successful profile picture, which include:
Choosing a picture where your face is well-lighted;
Going for a simple background;
Don't forget to smile, this will help you land more clients. When you smile, you seem more trustworthy, friendly and sociable.
Your face should be visible, so try not to post a full-length portrait. And also choose one, where you look directly at the camera.
Here are some great ideas for professional profile photos on Pinterest.
Go for a specific headline
Your headline should specifically describe what you actually do. But writing just "Copywriter" or "Web Designer" isn't enough.
"We're always in search of creative writers", says Julia Bosh, an HR manager. "There are thousands of similar profiles on different social platforms, but what all employers are really looking for are the profiles that stand out. And the best way to do it is by choosing a catchy headline."
Here is an example headline from a business profile on Upwork, using key skills and positions:
There are some very simple rules to follow when it comes to creating a profile headline:
Be clear: don't use long sentences and too many prepositions. You can describe your job in a few words.
Be specific: outline your area of expertise in a couple of words, like in the example above. This way you'll be able to land a job you're really good at and it will be easier for the clients to find what they want.
Write a first-person bio
No one will tell your story better than you do. So take your time and think about the words and phrases which will describe you as a person every client wants to hire.
When working on a bio for your freelance profile, there are some steps you don't want to miss:
The first sentence says it all: try to write a killer first sentence. The introduction to your bio is the part that catches the eye of a potential client. You can start with some reviews from other clients, who were happy with your job;
Mention the motto that makes you stand out. If you follow a specific rule that defines the style of your work, you should mention that. It will create an impression of a confident person, who knows what he or she is doing;
Stuff your bio with skills and experience: make a list of your skills and experience that make you stand out. However, try to be consistent and don't just throw some random words in there. Remember, you'll have to prove that everything in your bio is true.
Show that you are a result-oriented person: one of the things that clients want the most from freelancers is a good result of their work. Say that you're always willing to improve and that you value the results as much as your clients.
Tip! It's good to write a detailed bio, but try not to write the whole essay. Your clients still don't have much time to read it. Besides, you can put the most important things in a few words and still manage to come up with a good bio.
Here's a great example of a memorable, sweet, but still downright professional bio, by Karen Abbate on Linkedin: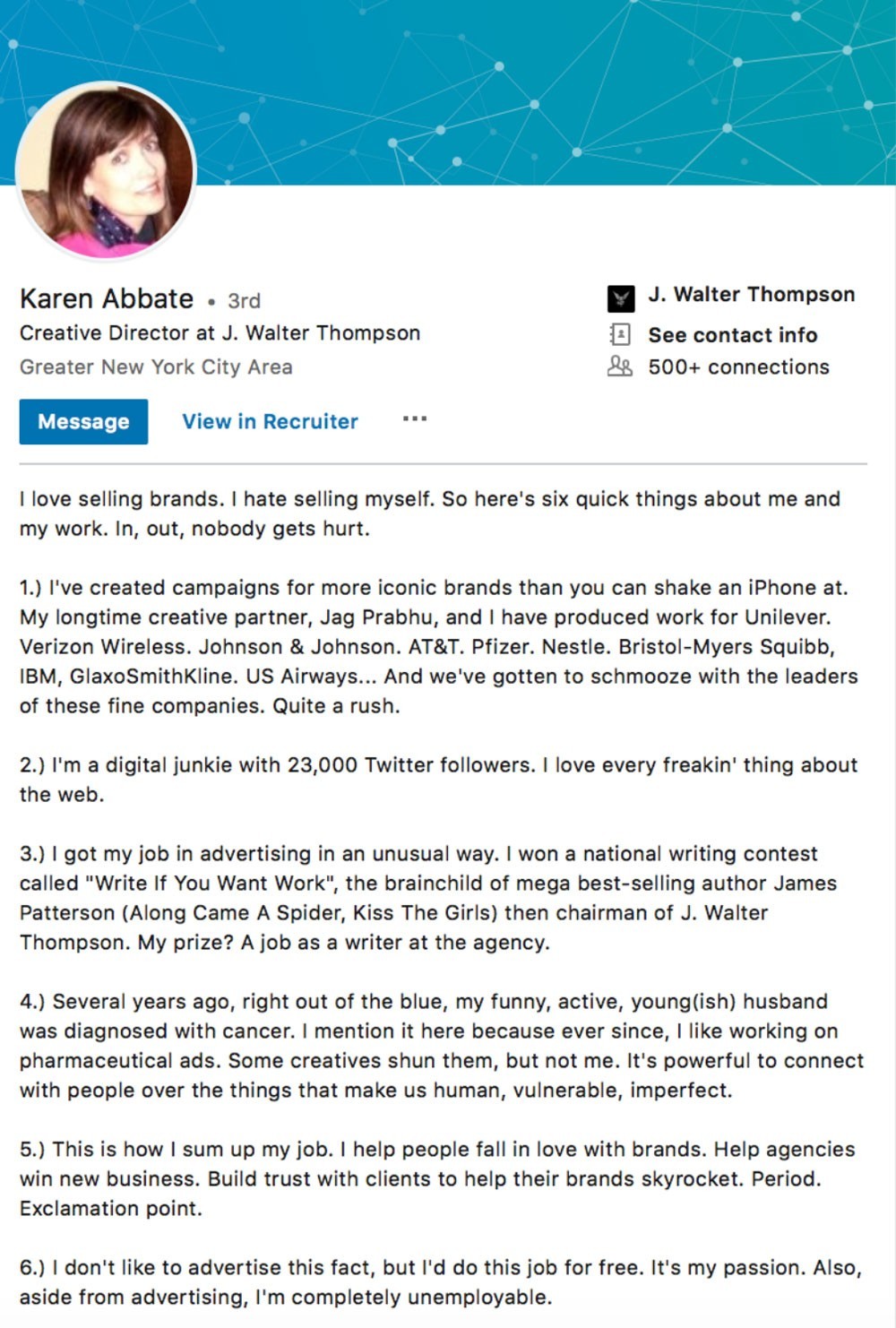 Tools to Make Your Freelancer Profile Outstanding
Rocketium – since many freelancer networks allow and encourage freelancers to create personal videos for their profiles, this super functional tool for video creation and editing can be helpful.
Assignment Helper – use this tool to check your profile bio and other sections for any kind of mistake before making it public.
SEO Web Page Analyzer – check your freelancer profile for search engine optimization.
Remember – confidence is the road to success!
Being a successful freelancer, and having a successful business profile to go with it, comes with time. Don't lose confidence. If it takes a couple of months, or even a year, to land several good clients, then it will be worth it! Work on improving your skills and you'll be lapped up in no time.
---
Ready to get hired? At Twine, we have dozens of top-quality jobs being posted each and every day. From design to marketing, development to copywriting – there's a job ready for your skills. Join the marketplace of creative talent here.